Beware of Scotia Pardons! Allegedly Fraudulent Pardon Agency Still Operating in Canada
Unfortunately, the problem of fraudulent Pardon agencies still exists and they are still operating in Canada. Trusted Pardons Services, LLC (TPS) and Scotia Pardons are two of the most notorious "companies" to make headlines for scamming Canadians hoping to secure a Canadian pardon and/or US entry waiver application.
On March 29th, 2017, California District Attorney Lisa Green, representing the people of the State of California, presented her case against Trusted Pardon Services and Scotia Pardons to the Superior Court of the State of California.
The people behind these fraudulent Pardon Services Companies are Omar Akhtar, Adil Javed and Jamie Jackson. Charges brought against them include, but are not limited to: false advertising, unfair competition, unlawfully recording calls with customers, and evading taxes. The district attorney is seeking approximately 4.6 million dollars in repair and restitution.
Trusted Pardon Services was created in 2009 by Akhtar and Javed. Located in a single "boiler-room" office in Bakersfield, California", these individuals conspired to create a company that promised to take care of the entire pardon and waiver application process. Together, they hand-picked a team of customer service representatives based on their ability to lie and mislead customers, the filing claims.
Customers calling for information about TPS services were pressured into signing contracts using various deceitful methods. Such tactics included telling customers that legislation would be changing and that prices would increase drastically if they did not register with their services immediately over the phone.
Before explaining anything about the "100% guarantee, full-service company", service representatives would ask personal, unnecessary questions to the customer concerning things like employment and annual income. The more they felt a customer could afford, the costlier their services would be.
It Didn't End There
Customers following-up with their applications would be told that their contracts had expired and needed to pay a reactivation fee to proceed. Other tactics used to pull more money out of their victims include: credit card decline fees, termination of contract fees, and filling fees to the government which were, of course, never paid to the government. These fees ranged anywhere from $125 to $500 USD.
According to Court Documents:
Akhtar and Javed incentivized the Customer Relations staff to lie, "[…] convincing
a customer to pay a reactivation or other fees would increase the employee's pay, while
refunding money would decrease the employee's pay".
Customers wishing to cancel their application were refused. No refunds were offered regardless of any circumstances. Unfortunately, some clients lost upwards of $3,000 USD to this shameful enterprise. The irony of the "client" vs. "service provider" is not lost on the present author.
Trusted Pardons Expands: Scotia Pardons is Born
The success of TPS's allegedly illegitimate business persuaded Akhtar and Javed to open a second  company: Scotia Pardons.
Ostensibly operating out of the same location as Trusted Pardon Services, Scotia Pardons operated in the same deceitful manner. They employed Jamie Jackson, their top earning employee at TPS, to run the operations at Scotia.
Jamie Jackson had a reputation for being ruthless in her lies and an unwavering ability to talk complete rubbish. I have personally experienced a "consultation" with this individual and I was greeted with immediate bullying and pressure tactics, not to mention a sales pitch composed of complete lies and, at best, half truths.
Scotia Pardons' Website Homepage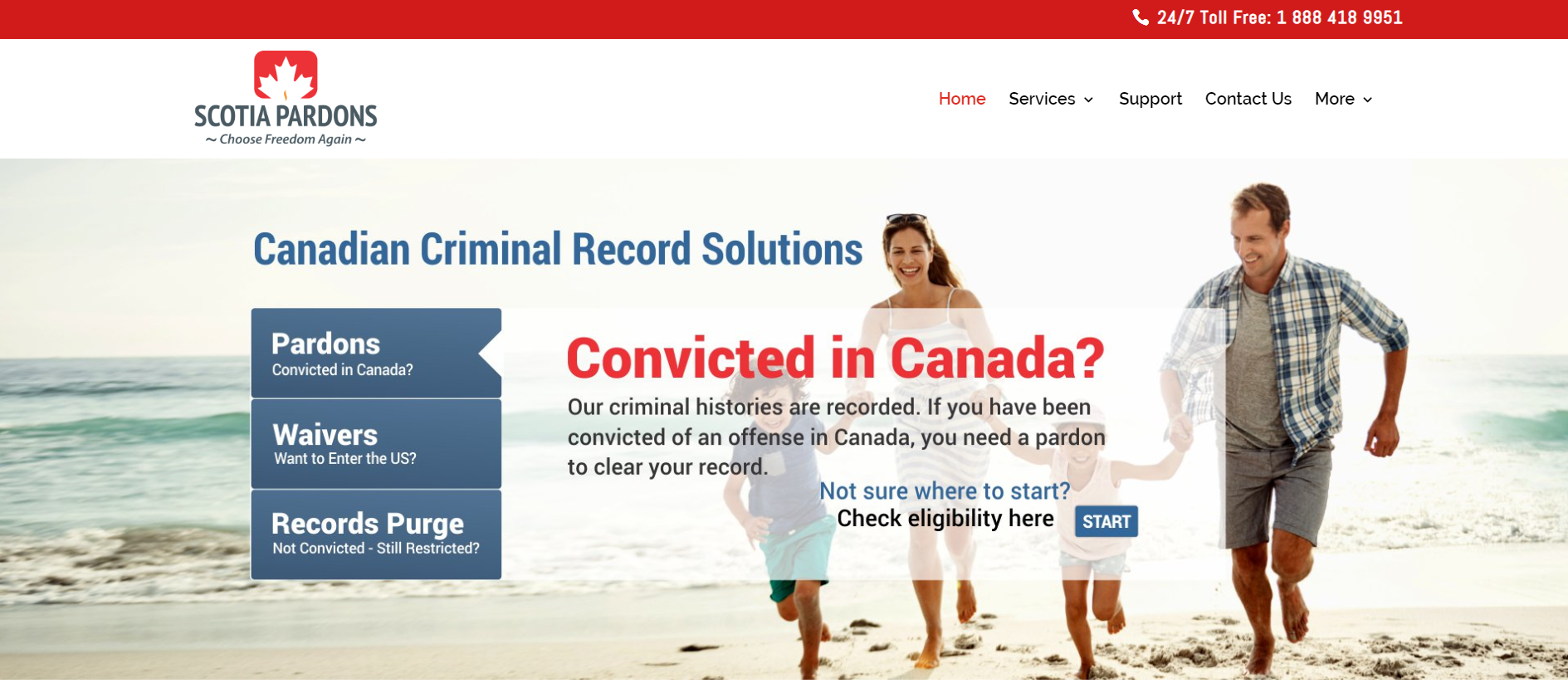 The California District Attorney Takes on Scotia Pardons
Since these two companies are currently awaiting trial in California judgement should be reserved until the court has made a decision. However, their services continue to be advertised on Facebook and Yelp and unsuspecting customers should be aware of the position this company is in. Their 4.5-star business review on the Better Business Bureau (BBB) appears entirely fabricated and, at the least, does not reflect the accusations brought forth to the Superior Court of California.
Bear in mind that it is extremely easy to write fake reviews. Similarly, their Indeed.com employee review is largely fabricated. But if you read between the lines you will find kernels of truth from past-employees whistle blowing.
Horrible
Administative Assistant (Former Employee) –  Bakersfield, CA – June 12, 2015
this place is a huge scam. they take money from people in Canada. they charge thousands of dollars to do waivers, pardons, and expungements when the clients just don't know they can do this all themselves for no charge. the company lies to Canadians and say they are based out of Ontario Canada when they are in Bakersfield ca. they only have a virtual office in Canada. I think its safe to say this company is horrible and I wouldn't refer them to anyone. they treat their employees like dirt.
For more information on Trusted Pardon Services and Scotia Pardons please visit the following:
https://www.courthousenews.com/kern-county-says-local-business-preys-upon-canadians/
https://www.cbc.ca/news/canada/british-columbia/pardon-services-us-trusted-canada-border-1.4061005
https://www.ripoffreport.com/reports/trusted-pardon-service/toronto-ontario-m5r3k4/trusted-pardon-service-this-a-service-to-help-individuals-with-their-criminal-record-for-1042292
https://www.consumeraffairs.com/news/california-business-scammed-immigrants-district-attorney-alleges-033117.html
What to Ask When Researching Pardon Agencies
Now that you know problems of this sort exist, what can you do to protect yourself? We've been trying to get this information across for years now. Here is what we believe will help you avoid the pardon scam.
At the National Pardon Centre we suggest you ask following questions when researching different a pardon service provider before engaging its services:
Does the company have an office you can visit or is the business address a virtual location? Pro tip: Google the address. If it's a virtual or shared office space (think Regus or any similar virtual location service) then you are best to stay away.
Is the company able to provide fingerprinting services (is it accredited by the RCMP)?
Does the company list its service fees online? If the price is not included in the website information the sales agent will sell you the service for whatever he/she thinks is obtainable. Pro tip: Disbursement costs should be clearly defined (Parole Board of Canada fee, Local Police fees, Court fees).
Does the company website provide any information on the owners, managers, etc. Similarly is the person you are speaking with on the phone willing to provide his or her full name.
Scotia Pardons Business Location
Scotia Pardons appears to be located at the following address:
WESTERN CANADA DIVISION
Scotia Pardon & Waiver Services Inc.
1275 West 6 Avenue, Suite 300
Vancouver BC, V6H 1A6
However, this also appears to be the address of a company called Rocket Builders.  It also appears to be the Virtual Office location of a company called New Look Business Centre.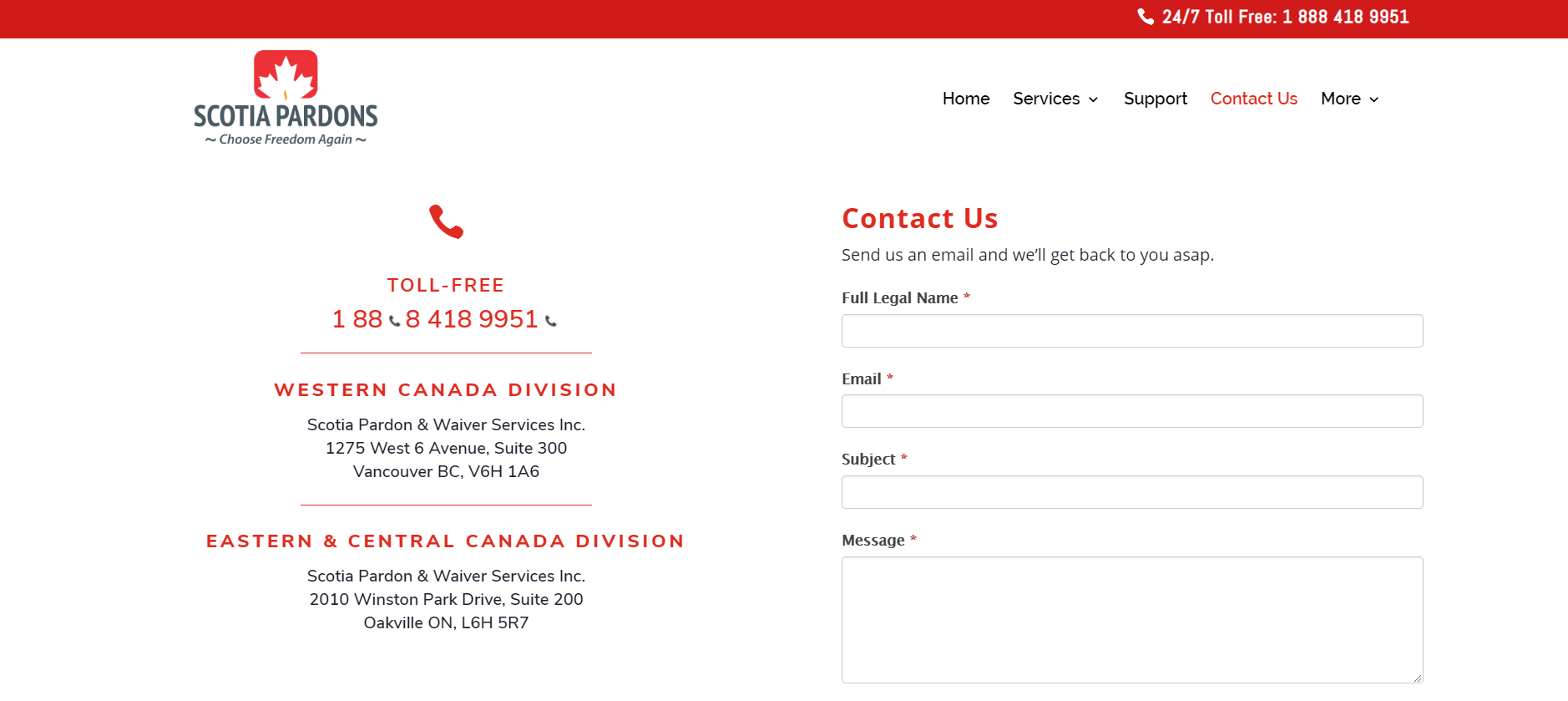 Bear in mind there is nothing technically wrong with a virtual office location. Many legitimate businesses have a virtual location. For example, we have a location in Calgary but we no longer provide any walk in or consultation services there and we make that clear to our clients. On the other hand, our Montreal and Toronto offices are both fully operational walk in centres that you can visit anytime during business hours.
Did You "Hire" Scotia Pardons?
If you think you hired Scotia Pardons (or any other fraudulent or scammy pardon company) you can give me a call anytime during business hours or send me an email. I am one of two founders of the National Pardon Centre and, unfortunately, I have been having this conversation with people for many years.
Is Scotia Pardons in Trouble?
The honest answer is I just don't know. But if you've been in touch with this company you will probably be interested in the following:
The district attorney seeks civil penalties of at least $1.25 million for false advertising, $3.125 million for unfair competition, and at least $312,000 for violations of the Business and Professions Code perpetrated against a disabled person or senior citizen.
A Little Blurb About Us
Here at the National Pardon Centre we've been in business since 2002. But more importantly we're honest and our intention is to do right by our clients every time.
We are accredited by the RCMP with a direct connect server and digital fingerprinting scanning technology onsite. Our staff is highly trained to provide a consultation that is in YOUR best interest.
Michael Ashby
514-842-2411 x 227
mashby@nationalpardon.org