International Fingerprinting Services – RCMP Certifications From Abroad
Canadians and foreign nationals requiring RCMP fingerprint certifications while living abroad must submit a set of ink fingerprints to the National Pardon Centre for scanning and electronic certification.
In the link below you will find the necessary documents required to complete your international fingerprinting certification through the RCMP. You will find the cost of the service in the order form. And it will be much faster than sending in Ink submissions.
Please note you do not need to use the RCMP C216 C fingerprinting form included as long as your local police station or fingerprinting provider uses standardized fingerprinting forms with the same layout. They must be formatted exactly as they appear in the image below.
The fingerprints MUST have ten rolled impressions on top followed by flat impressions below.
If possible you should complete the Biometric authorization.
Once your Fingerprints and Biometric Authorization form are complete please forward them to the following address:
National Pardon Centre
Fingerprinting Division
2 Carlton St. suite 1503
Toronto ON  M5B 1J3
If you have any questions please contact a fingerprinting specialist at the National Pardon Centre.
Required Format for Fingerprinting Submissions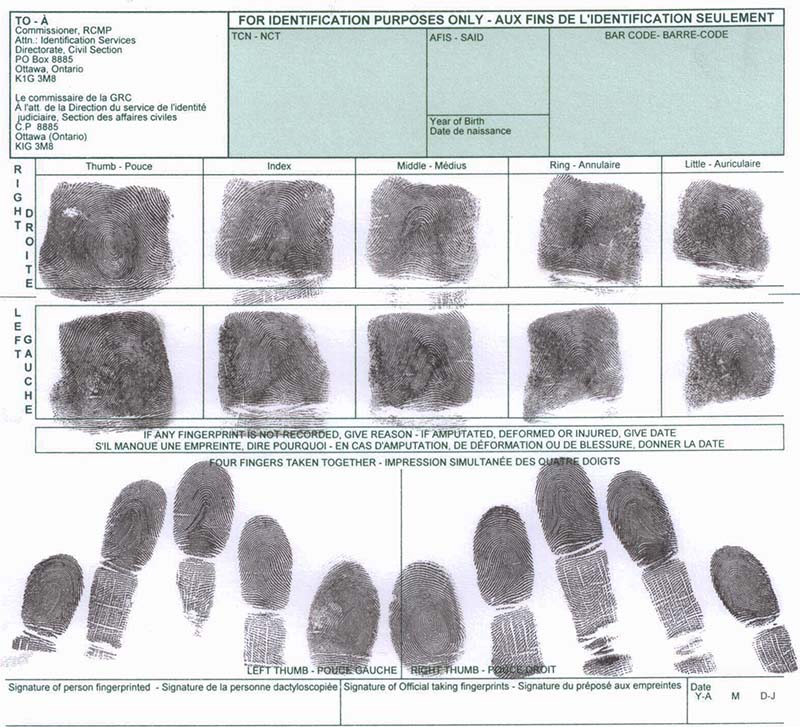 Receiving Your Results
You have three options for receiving your RCMP certification:
Receive your results by regular mail directly from the RCMP.
Receive your results by registered mail via the National Pardon Centre.
Receive your results by Federal Express via the National Pardon Centre.