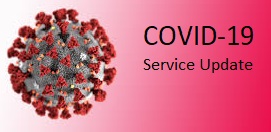 Covid-19 Update – Suspended Fingerprinting Services – National Wide
At the National Pardon Centre our first priority is to keep our staff and the public safe. To do that we would like to keep the public informed during these difficult times.
Currently, we are not offering fingerprinting services. 
Fingerprinting is a close contact service which presents a serious danger in passing along germs between staff and customers. Our walk in centres will remain closed until the threat to public health and safety is resolved.
Furthermore, the RCMP is required to conduct the background check upon receiving a fingerprinting submission. But since the RCMP is not processing fingerprinting requests at the moment, it would be pointless to provide these services anyway.
We have heard that some companies are still taking fingerprint appointments. But we hope these are just rumours because there is no justification for ignoring the current social distancing measures. Please respect the closing of non-essential services. Stay at home as much as possible and isolate yourselves from others.
We hope to re-open after April 13th. But like everyone else we are monitoring the situation and are not able to commit to a specific timeline.
Our intention is to abide by the rules our governments have set in place, in the hope things will go back to normal as soon as possible.
We wish you all a safe and healthy period of isolation.